While recently sitting out on my back porch, I found myself bombarded by a world of frustrating weaknesses. I'd been analyzing for a good 30-minutes over how to fix one relationship or another, my job, or my not-enough or my too-much-ness, before I realized how much time I'd wasted. My beautiful sun-filled moments had been stolen.
If I'm honest, these moments happened quite too often. The constant battle to fix and perfect my world, yet not let my frustrations steal my moments. I felt consumed with my inabilities. Would I ever be enough, good enough, strong enough, but not too strong, not too much? Before I knew it, I was crying. I was tired. Tired of not measuring up. Tired of the struggle. Tired of the confusion. It was then, as my heart was open and honest before the Lord, that He began to put His finger on something and reminded me of a memory.
In the memory I was on a trip to Zambia, Africa with an organization that primarily works with child sponsorships and orphans. One afternoon on the trip I went to visit a house of twelve orphan girls. We sat in their humble home gathered around their kitchen table telling stories when they asked if I had a talent to share with them. I was far from a dancer, juggler, or magician, but I quickly threw out that I could whistle or sing. Those were their options. One of the older more out-going girls quickly asked me to sing in a begging tone. I begrudgingly agreed and asked what they wanted to hear. With little hesitation the same girl replied, "Amazing grace…the one with the bridge that goes, 'my chains are gone.' You know that one?" Gulp. "Yes, I know it well," I replied.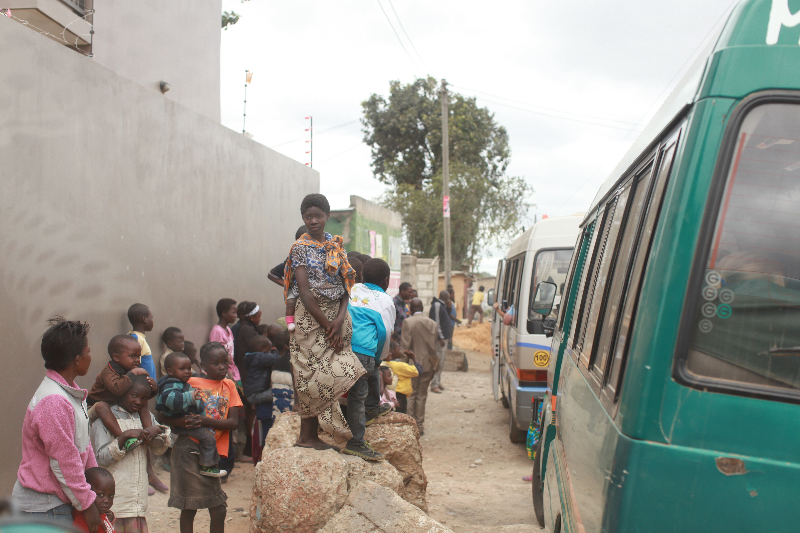 So many thoughts went through my head in that moment. How poor my singing would be for such a beautiful audience. How I wished I at least had a guitar to drowned out my lacking ability. I wished I had a more powerful voice, a more skilled voice, and that their twelve pairs of eyes weren't glued and waiting for me to begin. I'd sung a million times before much larger crowds, but had always been able to hide in the background of others more "qualified", or the lights and cameras had stolen the focus. This was just me, my small voice and twelve little people. I felt fully exposed.
As I began to sing, the echo in that small humble home reverberated back. The twelve girls sat still and silent. I closed my eyes to avoid their gazes, but as I did I felt God's gaze like few other times before. His presence was so sweet. It was as if He was smiling.
"Amazing grace how sweet the sound,
that saved a wretch like me.
I once was lost, but now I'm found,
t'was blind but now I see.
My chains are gone,
I've been set free,
My God my Savior,
Has ransomed me…"
I held back tears as I finished the song, knowing the voice I heard was finally at rest. God's presence had filled the room and I knew those twelve young girls had felt it too. That's all that mattered. They didn't care how perfect or imperfect my voice was - they cared that I was there, that I showed up, and that I had been willing to come and willing to sing. It was so much less about my ability and so much more about my willing heart.
My not-enough and too-much was all perfected in Him. He had never been looking for perfect people, just willing hearts. I didn't have to measure up to anything or anyone. I was simply His daughter who got to carry His presence and receive His amazing grace.
As I sat in my backyard flooded by this memory, God's truth spoke so clearly. "You get to rest in just being you. No striving. No comparing. No perfection. Just be willing to let me work through you. Be willing to go low. Be willing to travel far. Be willing to look like a fool. Just be willing."
"But God chose the foolish things of the world to shame the wise; God chose the weak things of the world to shame the strong." 1 Corinthians 1:27
"That is why, for Christ's sake, I delight in weaknesses, in insults, in hardships, in persecutions, in difficulties. For when I am weak, then I am strong." 2 Corinthians 12:10
About Jenae Tankersley
She is a girl from the country who has managed to survive and live in the city. Jenae loves change more than comfort. She relishes in grace that has made her confident. If she could, she would take her hand like a spoon and stir up hearts – awakening all the deep things which have settled to the bottom, been buried or forgotten, and bring them to the surface again. She loves C.S. Lewis and the way he manages to never stay on the surface of a matter, but still reaches those people who are. She loves family, golden retrievers, my family and amazing friends, traveling around the world, and gardening (a work in progress). Jenae aspires to live this one life she's been given, not wasting a day!